Ecolab Announces its Results in Water and Energy Savings and Increased Productivity
 

Sustainability Report 2018 includes Brazilian cases that evidence how the company's innovations and technological solutions preserve natural resources and promote sustainable development.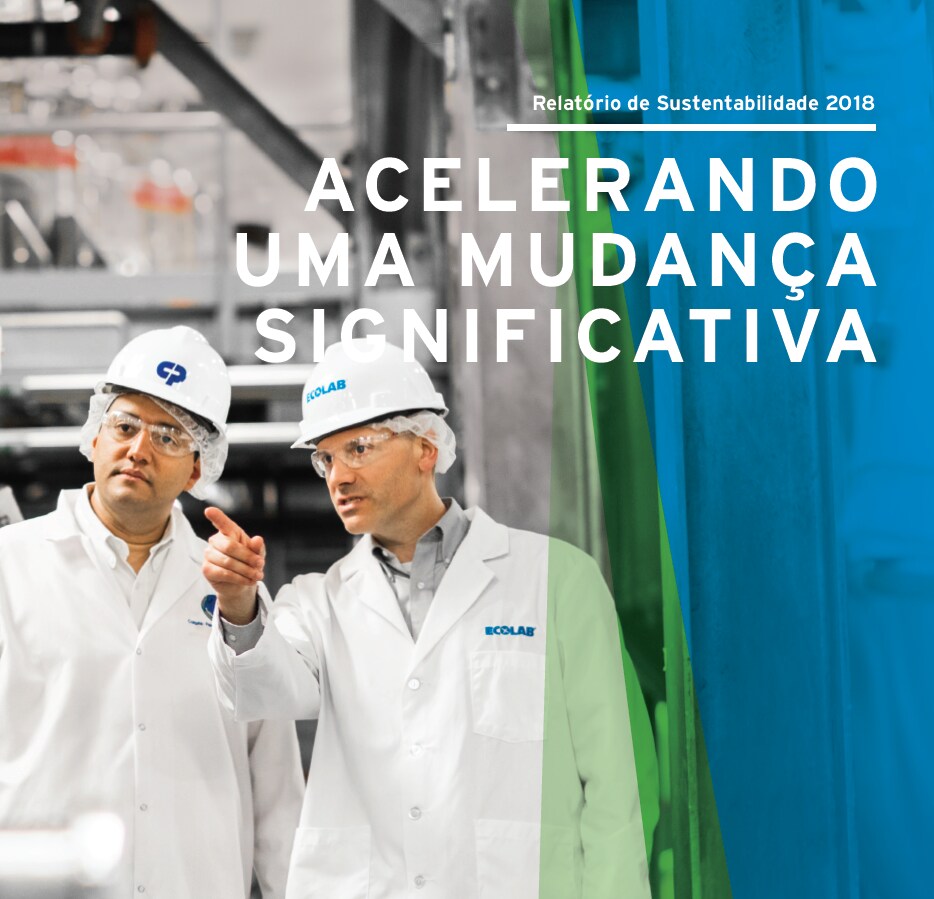 São Paulo – September 16, 2019 – Ecolab, the world leader in water, hygiene and energy technologies and services, in 2018 contributed to the savings of over 700 billion liters of water, equivalent to the needs of 650 million people, and helped its customers avoid the emission of more than 1,000 thousand tons of greenhouse gases. In addition, it was in charge of food safety of 25% of processed foods and 44% of safe and hygienically produced milk around the world. These data were taken from Ecolab's latest Sustainability Report, now also available in Portuguese.
The report presents successful cases, proving that innovation and technology, combined with world-class chemistry, bring solutions to concerns related to water scarcity, gas and oil supply, natural resource recovery, pollution control and infection prevention.
In particular, the 2018 Sustainability Report provides examples of two Brazilian companies that improved their productivity, achieved their operational and sustainability goals and gained greater market value through the adoption and implementation of Ecolab solutions and programs.
In Brazil there was the case of a manufacturer of organic nuts that managed to reduce by 5% the consumption of water and energy in cleaning, increasing its productivity by 3.3% and its market value by 30% after implementing the pest control program.
The company was previously a customer of Ecolab and brought the challenge of getting organic certification for a new line of snacks. To this end, the plant started using neem oil in its facilities, in addition to the Stealth™ Fly Station, a reflective device that attracts flies before they enter the room. The methods applied not only met the requirements but also provided higher productivity due to their efficiency.
Another successful example of Ecolab in Brazil is EDP - Energias do Brasil, which has managed to save nearly 1,200 million liters of water per year, reduce fuel consumption by 283,000 MMBTUs (298 trillion joules) and reduce emissions of CO2 by 8,500 tons. The company's facilities used to face periods of water abundance and others of drought, affecting their productivity and efficiency. To address this situation, EDP decided to reuse the water during the scarcity period and, to do so, they had to increase water recirculation cycles from an average of six to ten. In addition, there was a need to control corrosive processes, foaming, high mineral levels and microbiological growth in water, all of which affect cooling system performance and operating efficiency.
Ecolab's PurateTM solution was used to ensure water quality control and to eliminate corrosion and foaming issues, besides providing a highly efficient disinfectant for microbiological control. Thus, EDP managed to improve its water quality standards and operate efficiently throughout all months of the year. PurateTM also contributed to the reduction of energy consumption and greenhouse gas emissions. As a result of this partnership, in 2017 and 2018, Ecolab received EDP's supplier of the year award.
"For Ecolab it is a privilege to help our customers cope with their growing demands for sustainability in a time of climate change and water scarcity. Our Sustainability Report shows how technology can deliver solutions and drive progress without harming the planet", says Orson Ledezma, Vice-President and General Manager at Ecolab Brazil.
As sustainability goals for 2020, Ecolab commits to reduce its water consumption by 25% and greenhouse gas emissions by 10%.
Ecolab's 2018 Sustainability Report is available on the company's website.  For further information: https://pt-br.ecolab.com/sustainability/download-sustainability-reports
About Ecolab
A trusted partner at nearly three million customer locations, Ecolab (ECL) is the global leader in water, hygiene and energy technologies and services that protect people and vital resources. With annual sales of $15 billion and 49,000 associates, Ecolab delivers comprehensive solutions, data-driven insights and on-site service to promote safe food, maintain clean environments, optimize water and energy use, and improve operational efficiencies for customers in the food, healthcare, energy, hospitality and industrial markets in more than 170 countries around the world. For more Ecolab news and information, visit www.ecolab.com.
Follow us on Twitter @ecolab, Facebook at facebook.com/ecolab, LinkedIn at Ecolab or Instagram at Ecolab Inc.  
For further information:
Caroline Fontes