Room Refreshers
Oasis™ and Oasis Pro™ Room Refreshers are heavy duty air fresheners and deodorizers specially formulated with long-lasting ingredients to provide odor control for hours when used as directed under normal circumstances.
Variety of scents to meet the needs of your brand:
Clean Escape

Clear crystal waters infused with the essence of fresh aloe, calming black tea leaf, warm musk, an a touch of sparkling bergamot orange.

Laundry Fresh

Sun-dried linen illuminated by fresh floral accents and a breezy touch of clean white musk.

Garden Sunshine

An inviting bouquet infused with the essence of calming jasmine, delicate peony and a touch of velvety peach.

Morning Breeze

Fresh aloe infused with a touch of garden herbs and crisp green apples with a zesty splash of citrus.

Island Wave

A fresh ocean breeze carrying notes of juicy melon with a hint of soothing coconut.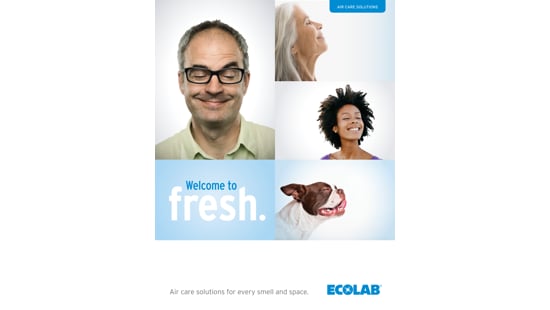 Ecolab Air Care Solutions Brochure