Enhanced Cleaning Results in Cookie
Dough Plant - No Water Required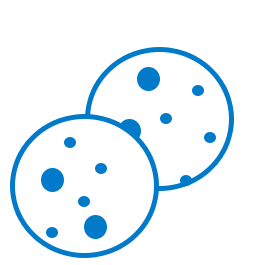 The Situation
A leading packaged food processor desired to eliminate water from their cleaning process and reduce the time required to manually clean their equipment. At the same time, the customer wanted to keep safety a priority - the current cleaning procedure included the worker climbing up on equipment, such as the dough hopper, with a bucket of hot caustic wash (~130 deg. F / 54 deg. C) - which posed a threat to the employee's safety.
The plant achieved a 50% reduction in cleaning time and eliminated 100% of process water.
The Solution
In partnership with Ecolab, the cookie dough processing facility completed a trial of the DrySan Duo cleaning program. They began using DrySan Duo for the cleaning step. This process enabled plant workers to:
Use cleaning product in ready-to-use spray bottles at room temperature
Eliminate the multiple chemicals previously used for this application
No rinsing or dilution was necessary, so steps were eliminated from the process
Low alcohol - non-flammable formula means no worker PPE is required to use it
The Results
After completing their trial with DrySan Duo, the cookie dough plant had achieved a 50% reduction in cleaning time.
Conveyor belt cleaning time went from 5 hours to 2.5 hours
Dough hopper cleaning time went from 6 hours to 3 hours
The plant also eliminated 100% of the process water they used during the cleaning step previously. In addition to gained efficiency, the plant improved the safety of their workers by eliminating the hot, caustic manual wash step.
Related Stories
Visitors who viewed this story also viewed
This is a carousel. Use Next and Previous buttons to navigate, or jump to a slide with the slide dots.