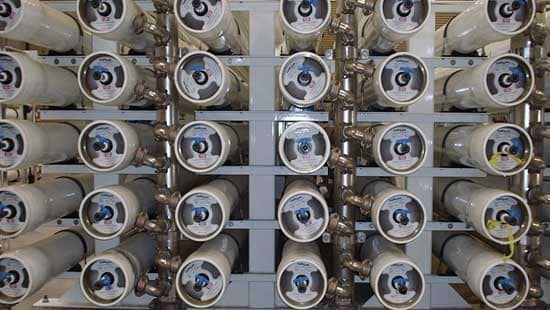 Membrane Chemistry
Improve permeate quality and meet production demands. An effective reverse osmosis (RO) chemical program consisting of antiscalants, cleaners and biocides, combined with the right pretreatment processes and chemistry, will enhance system performance while reducing energy and water costs. Adding our cleaning program and appropriate maintenance provides substantial returns by extending membrane life, resulting in less downtime and lower total cost of operations.
PermaCare™ Membrane Chemicals
Your customers rely on your ability to provide a high-quality, consistent product. A reliable reverse osmosis (RO) system is crucial to deliver abundant, affordable and high-quality water to meet your production goals and their expectations.
Our comprehensive PermaCare™ membrane programs will help you operate consistently without unexpected upsets.
Antiscalants
Antiscalants prevent mineral deposits on membranes that cause fouling and reduce output. Our PermaCare antiscalants have a long track record of delivering superior performance for a wide variety of membrane installations, ranging from very large potable water plants to small and mid-sized industrial installations. Our proprietary TRASAR technology provides continuous in-line monitoring of antiscalant concentration and insures precise dosing regardless of variations in feed flow. Our PermaCare antiscalants:
Meet the demands of most water types
Protect against high levels of foulants
Are NSF standard 60 approved
Cleaners
Our comprehensive range of cleaners are specifically formulated to remove mineral scale, insoluble scale, organic fouling or microbial residue to restore membrane performance. Our cleaners also:
Target specific foulants
Are available as acid and alkaline cleaners
Are NSF standard 60 approved
Biocides
Biofouling or microbiological contamination is one of the most common membrane problems. The PermaCare product line contains a wide range of accepted biocides for small to large applications. These non-oxidizing biocides control a wide spectrum of microbiological growth without shutting down the system. They also support membrane preservation.
Pretreatment
Pretreatment is essential for maximizing membrane performance. Let us help optimize your pretreatment process. Our comprehensive product line includes:
Coagulants to reduce Silt Density Index (SDI) and membrane fouling
Products to address alkalinity and dechlorination
Thermal Desalination
Our desalination programs provide superior performance controlling both soft and hard scales in high temperature brine plants.