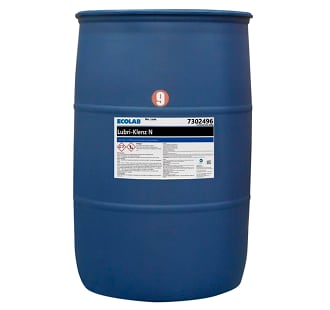 Lubri-Klenz N
Synthetic Lubricant
Lubri-Klenz N is a synthetic lubricant designed to act on plastic and stainless steel conveyor chains for glass, cans, REF PET and NR-PET bottle containers in the brew/beverage industries.
Its excellent lubricity maximizes line efficiency and helps to extend track life, lower set-up repair costs and line downtime.
Characteristics:
Synthetic Formulation.
Use in any hard water condition.
Biodegradable according to OECD 301.
Does not contain phosphorus.
| Product Code | Pack Size |
| --- | --- |
| 7303482 | BB 60L |
| 7003483 | TBP 200L |
| 7003484 | CTN 1000L |
Versatility
Lubri-Klenz N is compatible with conveyors made of:
Ensures:
High speed in the process.
Maximum efficiency for the lowest cost of use.
Its synthetic formulation allows use under any hard water condition, not requiring additional treatment.
Minimizes nozzle clogging.
Convenient use.
Due to its formulation, it leaves mats clean and shiny.
Formulation with low foam generation that allows use on high speed lines.
Biodegradable product according to OECD 301.
Its formula does not contain phosphorus.