Commercial Bird Elimination
Whether damaging your property with their droppings and nests, or creating an unsightly and unsanitary mess in and around your building, nuisance birds like pigeons, can cause real problems. Our Pest Elimination Service Specialists will deliver a program that will rid and deter these disease-carrying pests.
Commercial Bird Control Services
Our integrated commercial bird control services include state-of-the-art products, techniques and technology that are non-lethal, non-disruptive, discrete and humane. Your Ecolab Pest Elimination Bird Control Specialist will consult with you to identify problem areas and find the best bird deterrent options available for your facility.
Our Strategic Approach to Commercial Bird Control:
Assess Risk
Reduce Population
Defend Your Operation
Protect Your Brand
Ecolab goes beyond pest and bird control, putting our expertise to work every day to solve the industry's most complex pest challenges. Through our proactive people and innovative spirit, we protect you today, while advancing new and better solutions to protect you tomorrow. We are committed to a higher standard.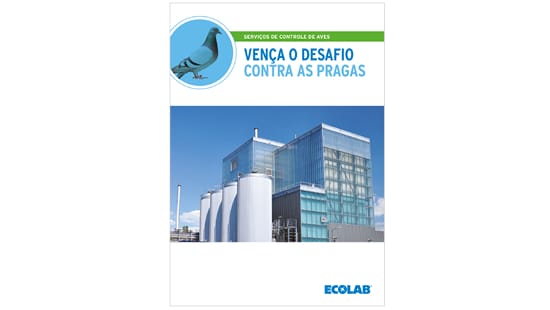 Download the Bird Control Services Brochure
Birds Create an Unsanitary Mess
The most common pest birds in North America are the Pigeon, English Sparrow and Starling. These birds breed at a rapid rate of 2-4 offspring on average per year, which leads to overpopulation. Their droppings are considered highly acidic and can ruin building structures and equipment. They can also spread more than 60 diseases through fecal matter, feathers, nest materials, and parasites such as lice, mites and fleas.
Our integrated bird management program combines netting, wires and other non-lethal innovations to deliver a long-lasting deterrent to these disease-carrying pests. Your Service Specialist will consult with you to identify problem areas and find the best bird deterrent options for your facility.
The program includes:
On-site consultation and inspection
Netting to block access to open areas
Rods, posts and coils to prevent birds from roosting
Low-amperage tracking deters birds without harm
Bird management strategy to help you keep birds out
Guaranteed satisfaction
When you partner with Ecolab you can be confident you are getting innovative, science-based solutions delivered by rigorously trained pest specialists who deliver consistent and precise execution of service protocols; actionable insights to proactively prevent pest risk; customer support 24/7/365; and a strong commitment to customer partnership. Together, we protect success.

Our Commercial Pest Elimination Offerings
This is a carousel. Use Next and Previous buttons to navigate, or jump to a slide with the slide dots.
No related pest elimination offerings were found.
View All Pest Offerings