Ecolab Named to Bloomberg Gender-Equality Index for Third Consecutive Year
Recognition underscores company's commitment to gender equality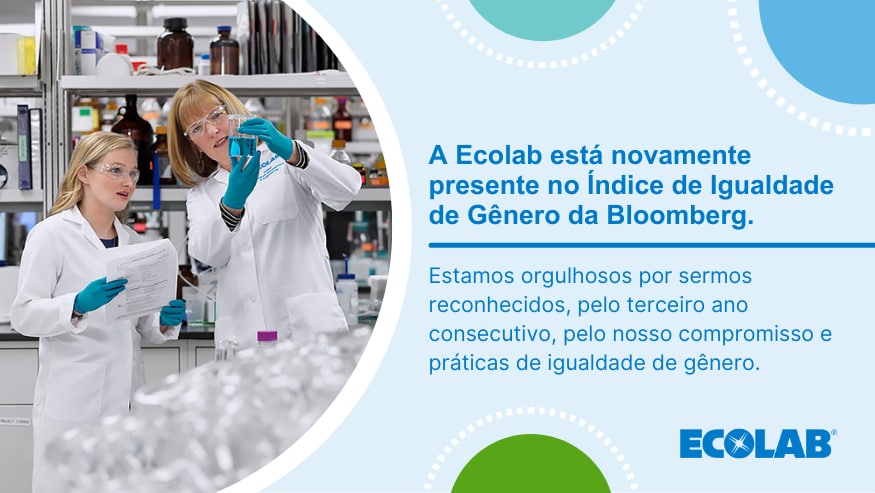 Ecolab has been named to Bloomberg's Gender-Equality Index (GEI) for the third consecutive year.
Ecolab has continued to strengthen its commitment to these policies and practices. Recently, the company has introduced inclusive benefits like U.S paid parental leave, adoption and fertility coverages, flexwork programs and caregiver resources. Ecolab also worked with a third-party organization to complete U.S. pay equity audits in 2018 and 2020 that validated that Ecolab provides equitable and competitive pay across our organization.
The company's E3 employee resource group, focused on accelerating the advancement of women leaders, hosts a global mentorship program that provides members with career guidance, professional development and networking opportunities, and senior leadership exposure.
Ecolab is among 418 companies across 11 sectors included in this year's GEI, which tracks the financial performance of public companies that support gender equality through policy development, representation and transparency.
Companies are evaluated on a framework of metrics related to female leadership and talent pipeline, gender pay and equal pay parity, inclusive culture, anti-sexual harassment policies, and pro-women brand. A company's GEI Score is determined by its level of disclosure and performance.
The Bloomberg GEI brings transparency to gender-related practices and policies at publicly listed companies, increasing the breadth of environmental, social, governance (ESG) data available to investors. The comprehensive, transparent GEI scoring methodology allows investors to assess company performance and compare across industry peer groups. Learn more at www.bloomberg.com/gei.