Ecolab Ranks in Top 25 on the Just 100 List of Companies at the Forefront of Responsible Capitalism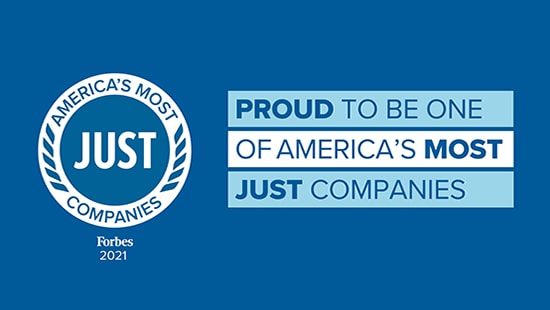 Ecolab ranks #22 on the 2021 Just 100 list.
ST. PAUL, Minn. – Oct. 14, 2020 – Ecolab Inc., the global leader in water, hygiene and infection prevention solutions and services, ranks #22 overall and #1 in the chemicals industry on the 2021 Just 100 list. Developed by Forbes and Just Capital, this year's Just 100 rankings analyzed how the nation's largest publicly traded companies invest in their workers, support their communities, respect their customers, deliver value to shareholders and reduce environmental impact.
"At Ecolab, we understand that to be successful, we must have simultaneous focus on our social, environmental and economic performance," said Ecolab Chairman and CEO Douglas M. Baker, Jr. "We are a purpose driven company, and our capacity to make a difference couldn't be more important, given the many challenges the world is facing today, with racial inequity, the health and economic impacts of COVID-19, water scarcity and climate change foremost among them."
For this year's rankings, Just Capital evaluated 928 of the nation's largest publicly traded companies using data from public reports, surveys and crowdsourced repositories, and weighed the data based on what more than 110,000 Americans consider to be the most important aspects of business behavior: treatment of workers, community, customers, shareholders and the environment. This year, the ranking methodology also included the corporate response to the COVID-19 pandemic.
The complete 2021 Just 100 list is available on Forbes.com and in the November print issue of the magazine. Additional information is available at Just Capital.com.
###