The value of interactive technology in our industry.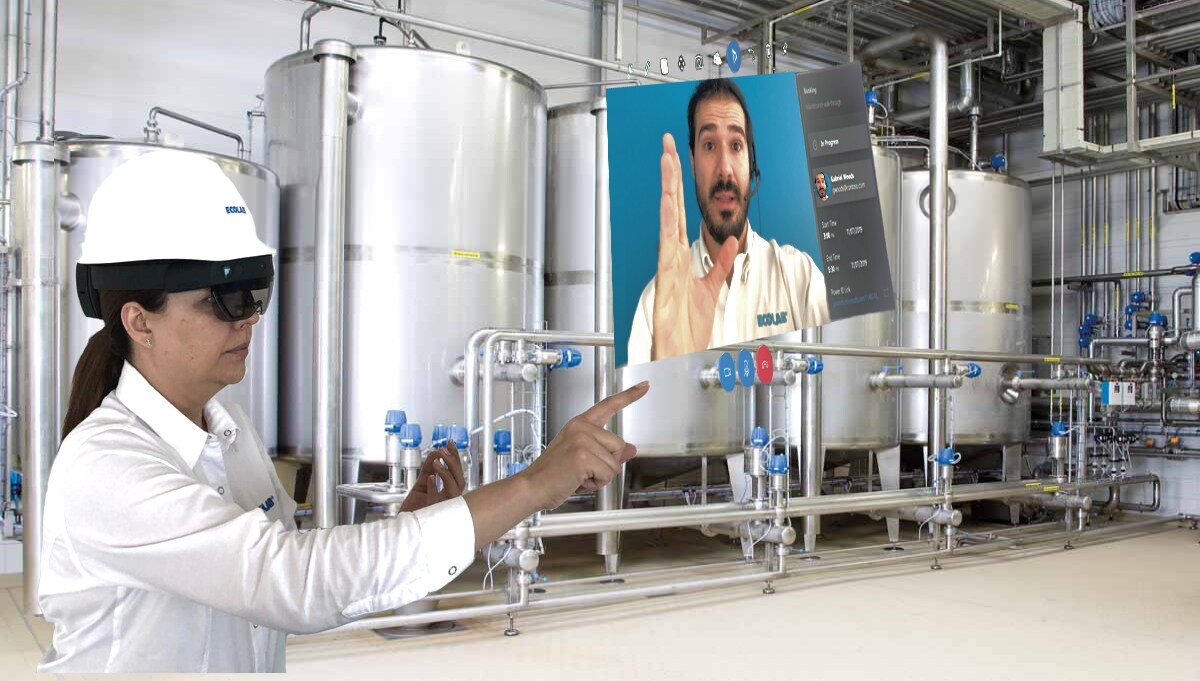 We tend to relate augmented reality (AR) and virtual reality (VR) to the entertainment and video game industries—after all, interactive technology evolution in those markets has remained constant since its introduction.
The main difference between VR and AR is that virtual reality delivers an experience where we become immersed in non-physical worlds and allows us to interact with avatars and objects; in contrast, augmented reality allows us to visualize objects and acquire information within the real or virtual world.
That said, the technology that is truly revolutionizing traditional industrial and business worlds is mixed reality (MR). Mixed reality combines the best of VR and AR and allows for the visualization of virtual objects in the real world; plus, it makes it possible for the user to manipulate, rotate, enlarge objects, and even make conference calls or support calls without a device.
Currently, interactive technologies have contributed to the evolution of different industries (pharma, medical, military, chemical, research and development, architecture and construction, and supply chain, to mention a few). These technologies are a perfect complement to IoT (Internet of Things).
Financially speaking, the return on investment in interactive technology significantly increases as devices and sensors improve along with advancements in bandwidth connections, especially considering that many countries are now beginning to adopt 5G technology.
Additionally, events such as the pandemic drive us to search for alternatives that prevent the movement of individuals, without diminishing the world-class service that our clients have become accustomed to.
For example, mixed reality delivers a fusion of the best of AR / VR and IoT trends where the virtual and the real unite to create new environments and places where digital and physical objects—as well as their data—can coexist and interact with each other.
Remote assistance for the greater satisfaction of food and beverage customers
At Ecolab, we leverage the advantages of innovation in technology to benefit the sectors that we service. Worldwide, our specialists are dedicated to testing different MR devices and committed to disseminating information on technology advancements. They also study these to evaluate and deliver the highest support structure to our partners and clients. Our goal is to achieve an optimal adoption and an excellent experience for both our collaborators and our customers.
With this in mind, Ecolab has been leveraging two types of mixed reality glasses called RealWear and Microsoft HoloLens2 , with great results.The criteria for their use depends on the type of work environment and the objectives to be achieved.
In addition to the above two technologies, Ecolab has also widely adopted Microsoft Dynamics 365 Remote Assist —a tool that works on cell phones with ARCore technology. It facilitates the use of sensors (gyroscopes, accelerometers, etc.) and cell phone cameras to identify the surrounding real world and integrate it with virtual content.
During the pandemic, technologies such as these have allowed our specialists to provide remote support to various Latin America food and beverages plants including carrying out audits, reviewing production processes and performing equipment installations, such as 3D TRASAR™ for clean-in-place (CIP), CIP audits, or even our customers' productive equipment.
In one case, a food plant in Central America was buying a butter machine from Argentina; we were able to audit and collaborate on cleaning aspects based on the European Hygiene standard EHEDG leveraging this technology. There was a similar situation with a client from Latin America who was waiting for equipment from Italy.
Our clients benefit from our agile and timely support, which avoids losses due to stoppages or decreased productivity. Additionally, we deliver risk-free support to our collaborators and our clients while improving efficiency, simplifying logistics for support operations, and positively impacting our company's sustainability footprint by avoiding air travel.
These applications enrich collaborative work environments in the industrial sectors through screen sharing video calls delivering in real time information and images from the person's location.
Mixed reality allows attendees to draw elements (arrows, circles) to identify details—such as flaws and anomalies, or positive aspects—in the surroundings of the environment they are visiting. These drawing can only be seen by those who use the application, and these remain fixed in the zone or area where they were drawn; in other words, the surroundings become a large canvas of annotations that allow for online identification and registration of findings with objective evidence, facilitating the generation of reports at the completion of the service.
Consistently working with innovation and digital tools is part of Ecolab's DNA. We have decades of experience enriched with industry knowledge, customer relations, and specialization in operations, which has become our badge of distinction in the global market.
Our digital assets network is, and will continue to be, an important contributor to the growth and evolution of our technical experts. We believe our service and commitment to the adoption of these innovations deliver a competitive advantage and the highest value proposition for our clients.
Ecolab helps customers ensure food safety with Microsoft Dynamics 365 Remote Assist and HoloLens 2